Below is a brief description of our new initiatives. Each of these will have a profound impact on mothers who are trafficked or in sex work and their children. But we need your support to move these projects forward. Please contact Brian for more information about each of these initiatives and how you can help support them.
Face Mask Project to Support Moms and Their Children In Kampala, Uganda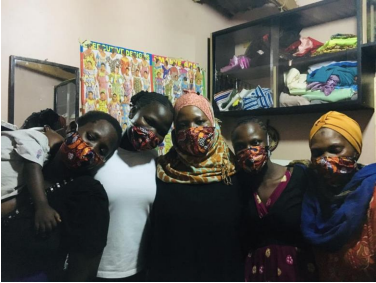 Help mothers learn a new skill and feed their children "We can't feed our children but this project will allow us to get food…." A mom who supports her children through sex work in Kampala Extremely poor moms who support their children through sex work are vulnerable even in normal times. Now, due to the Covid-19 pandemic and lockdown in many countries, these moms can no longer provide food for their children. Global Health Promise is collaborating with our partner in Kampala, Rhythm of Life, to provide these moms with the materials, tools, and training to make face masks to sell in the community. This project provides
the moms with an alternative source of income during the lockdown, and with valuable skills they can continue to use long after the lockdown is over.
The total budget for the project is $3,600. All donations help:
➢ $50 provides enough material for a mother to make 100 masks
➢ $122 provides a mother with a sewing machine
➢ $130 provides the mother with a sketchbook and clear files
➢ $135 contributes to the rent for the sewing center
➢ $149 provides the mother with all the training materials necessary to learn how to tailor
➢ $324 provides the central with a working table to ease the sewing work
[Based on US Dollars; USD]
Donations of any amount can be made to directly to Rhythm of Life on their website: https://rhythmoflifeuganda.com/
DONATE TO KAMPALA FACE MASK PROJECT
If you prefer to donate through Global Health Promise, you can donate on our website:
www.globalhealthpromise.org or contact Brian Willis at bwillis@globalhealthpromise.org.
Thank you for your generous support!
Download the Kampala face mask project flyer
Food for moms and their children impacted by the Covid-19 pandemic.
We are working with our local partners to get food to moms who must feed and care for their children through sex work but who cannot get enough food due to lockdowns in countries throughout Africa. In the best of times, many of these single moms, most of whom are widowed or abandoned and have no other way to feed their children, struggle to provide food for their children. Many of these children already suffer from malnourishment. This is in addition to other health problems they experience, including malaria. Without food, many of these children will die. Help us help these moms and their children.
Please generously donate so we can provide funding to our local partners to who will get food to the moms and their children. Thank you.
DONATE
Kampala childcare center for children of sex workers
Childcare center for children of female sex workers (FSW) in Kampala, Uganda. Many mothers in Kampala are very poor and must support their children through selling sex. You can hear the stories of two of these mothers on our video tab. These mothers do not have families to watch their children at night and cannot pay for childcare so the mothers must leave their children alone in their rooms or take the children with them to the streets. Neither situation is safe for the children. So we are working with our local partner, Rhythm of Life (ROL) to open the first-ever childcare center just for children whose mothers are in sex work. We will be open overnight to provide the children with nutritious meals. A nurse will come every day to check on the children as some are malnourished and other need medicine for acute and chronic illnesses. We will also be open in the morning so that the older children who go to school can receive a nutritious breakfast and we will also welcome them back after school if they need assistance with their school work. During the day we will also provide the mothers with job training for those who want alternative sources of income. This childcare center will be a model that we will replicate in other cities and countries through sub-Sahara Africa.
DONATE
Maternal and child health brochures for mothers in sex work and their children
There are millions of very poor women throughout the world who support their children through selling sex. The vast majority of these women will become pregnant yet few have access to basic information about prenatal care, safe delivery, postpartum care, and postpartum depression. While there are many materials to educate women in sex work about HIV there are there none specifically to provide them with critical information while they are pregnant. From our research, we know pregnant sex workers die. This is unacceptable. Pregnant sex workers experience barriers to prenatal care other women do not. For example, sometimes the madams in brothels will not let them get the care they need, or they do not know they need prenatal vitamins. It is a similar situation with their children: many of the new mothers do not know how to care for their newborns and older children. Since it is not possible for us to personally reach all the pregnant sex workers or those who are mothers, we are developing the first-ever educational materials specifically for sex workers and their children.
DONATE